Transportation Process
ANA Cargo offers safe, fast and high quality handling system for your cargo.
We will navigate you from the booking procedure to the departure of your cargo.
1 Booking
After confirming your booking, we will reserve the loading space on the aircraft.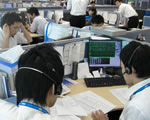 Accurate and efficient booking management system
We have managed to develop our booking system in order to accurately manage all bookings, leading to an efficient handling procedure.
ANA Cargo also accepts bookings online.
2 Acceptance
The cargo that was accepted at the airport will all be verified and categorized at our warehouse.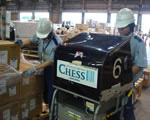 Introducing our fast and efficient verification of cargo using our handling system
We proudly own two handling system, "CHESS"(International)and "ATLO"(Domestic), which enables verification of cargo by using a terminal mobile system. This system makes our accepting procedure quicker and more reliable. Also, this system has been integrated into our rapid cargo service, "PRIO EXPRESS".
3 Loading on ULD
We will load all the cargo onto applicable ULD according to our loading plans.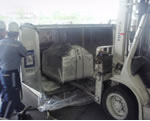 Acting rapidly to any changes to the loading plans
The simultaneous use of handling system and reservation system enables quick verification of your reservation status and allows quick booking changes.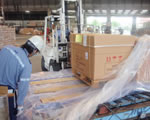 Checking the cargo status precisely assures safe and efficient transport
We have developed a system which provides the precise status of loaded cargo on ULD. Thus all accepted cargo, especially special and unique cargo, will be handled with the utmost care.
4 Loading on the Aircraft
We will load all cargo into ULD prior to loading on to aircrafts.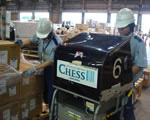 Assuring the safety of your cargo by loading on to the most appropriate flights
Through measuring and calculating the extent of aircraft and balance, all cargo will be loaded on to the most appropriate aircraft. At the same time, we will position your cargo on the aircraft, while considering each cargo's specialty.
To view the aircrafts that enable safe delivery, click here.
5 Departure
We will navigate you from the arrival of your shipment to the time you collect your cargo at the airport.
7 Arrival Status
Arrived cargo will be safely kept in the warehouse and we will unload your cargo from ULD with care.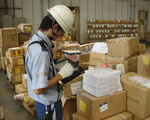 Communication between handling systems from departure to arrival enables the verification of your cargo to be completed as quickly as possible
Coherent management of cargo information between each airports enables fast and reliable verification of your cargo after arriving in Japan. Also, we proudly announce the service with which every customer can verify your cargo status online.
To verify the shipment status of your cargo, click here.
8 Delivery:You may collect your cargo at cargo counter at the airport.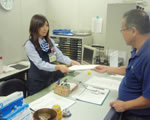 Streamlining the handling procedure enables us to shorten your waiting time
Right after the verification of your cargo at the warehouse is done, the arrival shipment status will be automatically certified. Also, we offer a priority pick up service.