Transporting Animals (Pets)
Please confirm below information for transporting animals (pets) as air freight.
Overseas departure cases (Other than Japan departures)
Due to the reservations method differs for ① and ②, please confirm which will be applied.
① In case the customer is to board the same flight with the pet (handled as hand baggage)
Please contact the ANA passenger department.
Support will be provided for the trip with one of the important members (pet) of your family.
For passengers traveling with pets (International Flights)
② In case the pet is to be handled as international cargo (handled as cargo)
Due to required arrangements, such as air waybill issuance or declaration at the local customs, the pet is accepted through the air cargo agents.
It is appreciated for the customer to find the available air cargo agent at the departure point.
Undertaking Transport of Animals (Pets)
The ANA Cargo policy is to confirm the following details with customers upon undertaking the transport of their animals (pets). Your understanding and consent is requested in ensuring that these procedures are properly completed.
The animal must be healthy.
Note: ANA Cargo does not accept recently born puppies due to the fact that such young animals are prone to dehydration.
There must be no special needs for replenishment of food or water from the time that the animal (pet) is placed under the Company's supervision to the time that it is received at the destination.
Knowledge of the animal's type and name.
Note: There may be occasions when passage is refused due to an animal's type.
ANA Cargo does not accept short-headed dogs on its international flights. This policy is based on the learned opinions of experts that risks exist of deterioration in the physical conditions of such dogs during extended flights (this policy is exercised year-round).
Note: Please check "Other information:Handling of short-headed dogs" section below for further details.
Confirmation of containers for transport
Note: Please check the "Transport Containers" section below for further details.
Boarding date, flight number and destination
Note: There may be occasions when passage is rejected due to the aircraft type or flight route.
Container Requirements
Upon the transport of animals (pets), shippers and air cargo forwarders are responsible for making preparations to ensure satisfaction of the following requirements regarding transport containers. Because failure to satisfy these requirements may result in refusal to grant passage, your understanding of this need is sincerely requested. Containers must provide ample space for animals to be able to turn around while standing, stand up and sit down with legs fully upright and lie down in natural positions. To ensure this status, it is requested that containers be arranged in compliance with the following criteria.
Note: Compliance with International Air Transport Association (IATA) Live Animals Regulations, Chapter 8 (Container Requirement 1).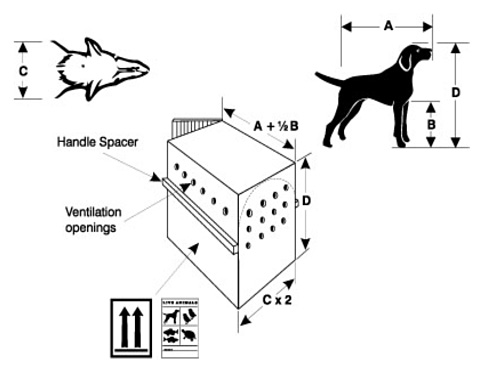 Containers shall be constructed of materials resistant to deformation and damage, and capable of withstanding the weight of the animals being carried within.
Ample space shall be secured to allow animals to turn around or lie down.
Containers shall be structured to secure ample airflow, and have ventilation openings in a minimum of three directions.
Containers shall be equipped with locks and/or other functions to prevent negligent opening of the doors.
Ventilation openings shall be covered with fine mesh netting to prevent any part of the animal from protruding outside.
Contains shall be structured to prevent joint fittings from being broken by the animals inside.
Container structures shall prevent animals from escaping through openings or joints, with no risk of causing damage to other animals.
The interiors of containers shall contain no projections capable of causing injuries to animals being carried within.
The interiors of containers shall be maintained in a clean state at all times.
Placement of water absorbents on the bottom of containers and other measures shall be used to prevent leakage of fluids or waste to the outside.
Handles shall be attached as required.
Example of acceptable transport container.

Examples of unacceptable transport containers.

Transport Requirements
<General Requirements>
The ANA Cargo policy is to explain the following requirements to customers when entrusting their animals (pets) for transport on international flights.
Advance arrangements for transport
Notes: Consultations are requested when making bookings with regard to primates, birds or other animals with the potential to transmit diseases to human beings, as well as large animals and other categories. Consultations are requested when making bookings in cases when cargo attendants are present.
Completion of advance arrangements for quarantine and delivery at destination airports.
Compliance with laws and regulations at points of transfer.
Compilation of required documents.
Compliance with requirements for containers specified in IATA Live Animals Regulations, completion of correct marking and labeling procedures.
When transporting animals, there may be cases when transport requirements other than those listed above are also in force. For bookings, please contact us at the following.
Safekeeping of Animals (Pets)
To ensure the safe transport of animals (pets), ANA Cargo shall, to the best of its ability, keep pets in indoor locations with ample ventilation and other environment supports that will not place a burden on the pets from the time they are taken into custody through the time they are loaded onto aircraft, and from the time the aircraft arrives through the delivery of the pets to the customer.
Methods of Transporting Animals (Pets)
Animals (pets) entrusted from customers shall be placed and transported in aircraft cargo compartments. While all possible preparations and efforts are devoted to the transport of animals (pets), there will be cases when the interior of aircraft cargo compartments become warmer or cooler in temperature than the outside air. With regard to transport, full understanding and consent is requested of the following information concerning the transport environment within aircraft cargo compartments.
Cargo compartment temperature
The interior of a cargo compartments is impacted by the aircraft parking apron environment (weather, temperature and humidity), resulting in cases when temperatures are warmer or cooler than the outside air upon loading or unloading.
Lighting
During flights, the cargo compartments will be dark due to the lights being switched off.
Atmospheric pressure
During flights, atmospheric pressure is approximately 0.8. Due to changes in this pressure during ascent or descent, there is the possibility of impact on the ears and other functions at those times.
Passenger Counter Pet Check-ins
When transporting pets on the same flight as the owners, the pets will be checked in as carry-on baggage. Such cases differ from handling and services as cargo. Please click here for further details.
Other information
About short-headed dogs travelling as international cargo
Applicable Flights
All international flights (including codeshare flights)
Suspension period
All year-round
Unacceptable dog breed
Bulldog, French Bulldog, Boxer, Shih Tzu, Boston Terrier, Bull Terrier, King Charles Spaniel, Tibetan Spaniel,Brussels Griffon, Chow chow, Pug, Chin, Pekingese

※Since 2020, ANA has suspended an acceptance of above dog breeds with "miniatures" kind as well.(Example: Miniature Bulldog, Miniature Bull Terrier, etc.)

※Except for the above 13 breeds including miniatures, it is acceptable even if similar names.
Customer Support
If you have any questions or requests regarding animal transport services, please feel free to contact us.