Over-pack Requirement
Please be informed that over pack for metal-made single package shall be mandatory for acceptance, as one of preventive measures for leakage of contents. This regulation has been ratified on January 1st 2003.
You are kindly requested to notify any concerns to all ANA sales staff who are concerned to keep strict observance of this new company regulation in addition to the basic handling procedures.
Contents and Subjects
The following red highlighted packagings are newly added from January 1st, 2017.
Steel Drums (1A1, 1A2)
Aluminum Drums (1B1, 1B2)
Plywood Drums (1D)
Metal Drums (1N1, 1N2)
Plastic Drums (1H1, 1H2)
Plastic Jerricans (3H1, 3H2)
Steel Jerricans (3A1, 3A2)
Aluminium Jerricans (3B1, 3B2)
Plastic Boxes (4H1, 4H2)
※Any cargo contain dangerous goods (regardless of liquid and solid) Any nonhazardous liquid and gel in the above single packagings
Methods for Over-pack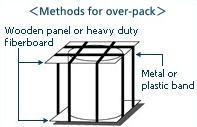 Please pack according to the figure on the left. Wooden frame or box is also acceptable.
In the case of full-covered over-pack for these packages, marking and labeling requirement by IATA must be compiled with.
If you have any questions about over-pack requirements, please contact one of the nearest ANA Cargo sales branch.