Company
Contributing to international logistics
we innovate
on the global stage
Global Network

Using our freighters and the ANA Group's passenger aircraft network to maximum advantage, we are chosen by customers worldwide.

Japan Quality

Our focus on quality provides a reliability and security appreciated by customers around the world.

Innovation Pioneer

We consistently conduct business with an innovative approach delivering a rich future to customers everywhere.
Message
ANA Cargo is a core company in ANA Group's air transportation and cargo business. Using the Group's freighters and passenger route networks, we formulate strategies, develop products and solutions, control sales, operations, and all other aspects of ANA business in this field.
With being paid more attention to glonal economy, the role of international air cargo transportation will continue to grow with the continued invigoration of business centered on the Asian market and growth in e-commerce. By fully taking advantage of our strengths -- our excellent air transportation network and transportation know-how accumulated over many years -- we will provide safe, reliable logistics solutions that are unrivaled.
Furthermore, we will move forward day by day, helping our customers to further expand their businesses and capture opportunities by continuing to generate added value through innovation rather than relying on stereotypes and past history, in accordance with our philosophy of being reformative, innovative and global.
Toshiaki Toyama - President

Becoming the comprehensive
air cargo company of choice
We want to continue to bring new value and innovation to the world of international cargo and logistics.
As a combination carrier fusing freight and passenger flight networks, ANA Cargo is creating a system to respond swiftly to customer needs, realizing stable transportation services through our exclusive Okinawa cargo hub network and joint ventures with overseas airlines. With our abundant equipment and product lineup, we have the capability to handle special cargo with diverse ULD, providing innovative services. With our stable air transportation infrastructure and distribution functions, ANA Cargo is evolving daily as we move towards our goal of becoming a comprehensive air transportation company.
The three pillars leveraging
our global network
Using freighter and the ANA Group's passenger aircraft network, ANA Cargo is developing its business across three pillars that will contribute to international distribution.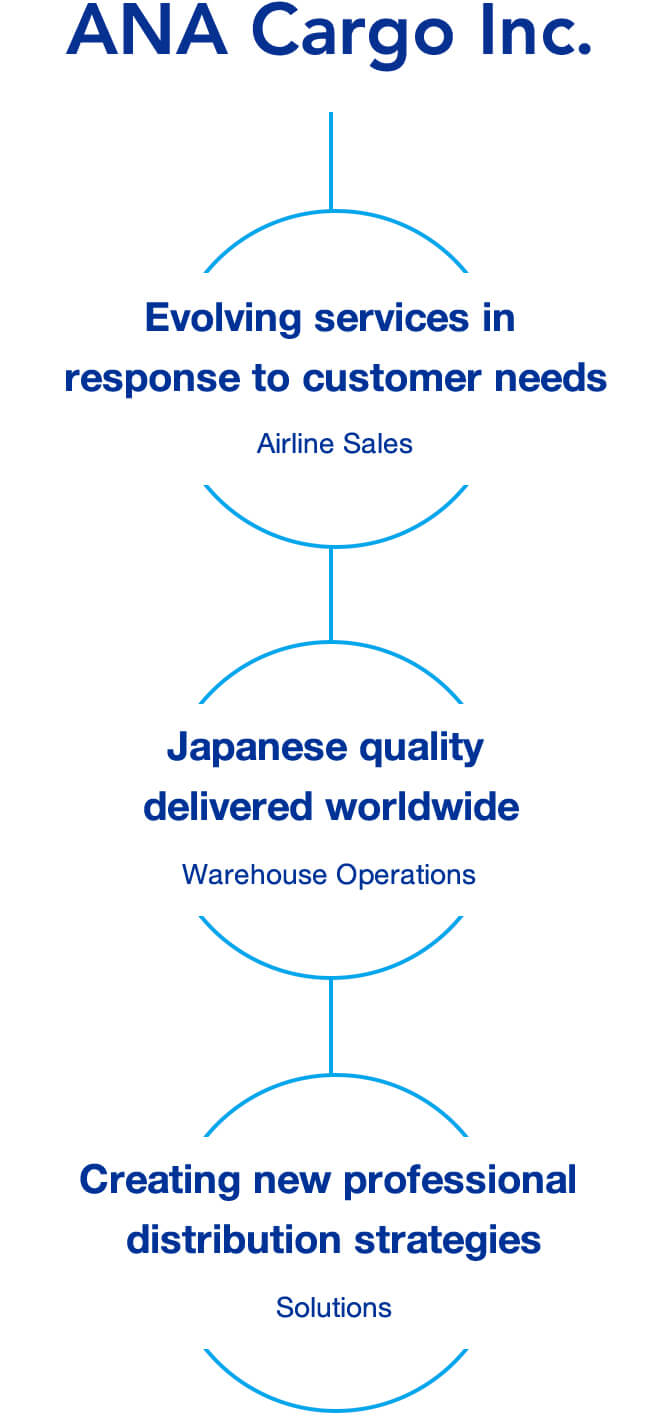 For further details,
please see the ANA Cargo services page
Measures that realize innovation
Fast transportation to Asia
via Okinawa Cargo Hub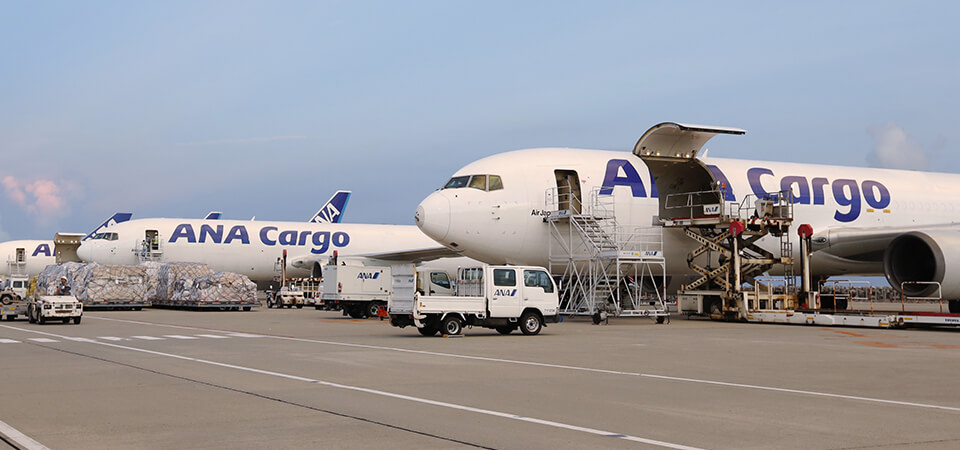 Established in Naha in 2009, the Okinawa Cargo Hub provides 24-hour landing and takeoff services, connecting Japan and countries throughout Asia within four hours. Through a network that takes Intra-Asia at face value, we deliver cargo accepted in locations around Japan to destinations in Asian countries by the following morning. These activities are supported by our business infrastructure, where both quality assurance and time-saving are essential.
Launching world-first joint ventures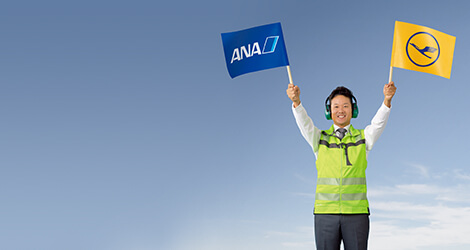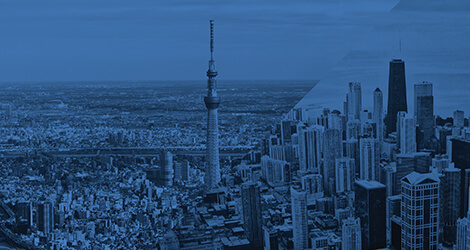 We launched the world's first cargo joint-venture business between airlines with Lufthansa Cargo in 2014, and then another joint venture with United Cargo in 2016. Mutual connections have enabled us to provide optimal routes and cargo space, making smooth transportation to even more destinations possible. We are creating many benefits for customers in terms of speed and flexibility.
ANA Group's trans-border
EC solution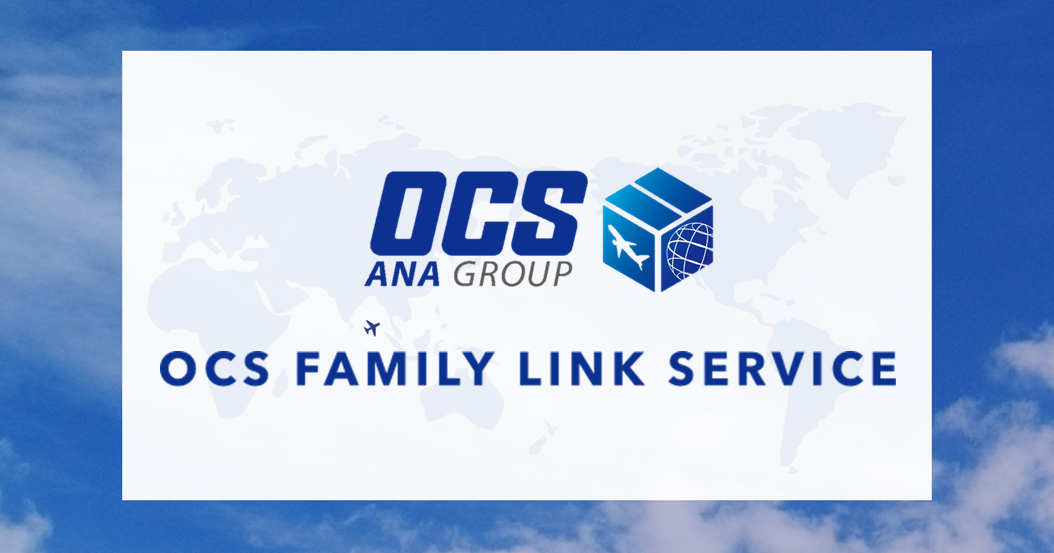 Trans-border EC business between Japan and China is continuing to grow at a rapid speed that outpaces consumption by visitors to Japan. The OCS of the ANA Group, which has been designated as an EC customs broker by China Customs, has developed an advanced product registration system for EC customs clearance in collaboration with ACD Inc. (Ekkyo.net). This has resulted in direct shipment trans-border EC solutions by combining the system with the ANA Group's intermodal transportation system, and thereby broadening customers' opportunities to join overseas markets.
Company profile
Company Name: ANA Cargo Inc.
Shareholder: ANA Holdings Inc. (100%)
Established: October 1, 2013
Commencement of Operations: April 1, 2014
Head Office Address: Shiodome City Center, 1-5-2 Higashi-Shimbashi,
Minato-Ku, Tokyo, Japan
History of ANA Cargo Inc. and the ANA Group's Cargo Business
December 1953: Cargo transportation between Tokyo and Osaka begins
1987-1990: Four companies are established in relation to the ANA Group's cargo business
November 2001: ANA Logistics Service Co., Ltd. is established
March 2002: ANA Logistics Service Co., Ltd. commences operations
2002-2003: ANA Logistics Service Co., Ltd. merges with four companies
September 2002: B767-300F freighter services commence
October 2009: ANA Okinawa cargo hub operations commence
October 2013: ANA Cargo Inc. is established
April 2014: ANA Cargo Inc. commences operations
December 2014: ANA Cargo Inc. and Lufthansa Cargo establish the world's first cargo joint venture