Japan
Tokyo (Narita)
Office Information
Address
[ EXP ] ANA Exports Warehouse, ANA No.7 Cargo Building, 1-2022, Komaino aza dainota, Narita-city, Chiba, Japan 282-0021
Office Hours
[ EXP ] 6:30-23:00
[ IMP ] 6:00-23:30
Telephone Number
[ EXP ] 81-476-31-6761
[ IMP ] 81-476-32-5200
FAX
[ EXP ] 81-476-31-6769
[ IMP ] 81-476-32-6768
Warehouse Information
| | |
| --- | --- |
| Address | [ EXP ] ANA Exports Warehouse, ANA No.7 Cargo Building, 1-2022, Komaino aza dainota, Narita-city, Chiba, Japan 282-0021 |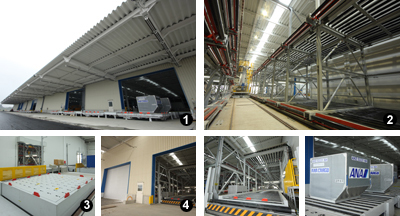 (1) ANA Export Cargo Warehouse No.7
(2) ULD Rack System
(3) Work Station
(4) Intact ULD Line


ANA Export Cargo Warehouse (No.7)

ANA cargo has managed to associate two systems into one organized system at the No.7 export cargo warehouse, which had previously operated in two separated warehouses, No.5 and Tennami.
Since we are expecting a dynamic increase in demand on acceptance of exporting cargo due to an expansion of Narita International Airport in 2010, we have adapted new systems to meet all those expected needs to improve efficiency of handling at this new warehouse. Adapted new systems are such as automatic container transportation system, CHS (Cargo Handling System) and last but not least, settlement of new workstation equipped by intact ULD Line.
About Sending your Cargo
Handling Information
Type of Cargo
Acceptance Closed Time
Delivery Time
General
[ Passenger aircraft ]
180 minutes prior to time of departure
[ Freighter ]
240 minutes prior to time of departure
[ Passenger aircraft ] Within 180 minutes after arrival
[ Freighter ] Within 300 minutes after arrival
PRIO EXPRESS
60 minutes prior to time of departure
Within 90 minutes after arrival
PRIO FREIGHT
120 minutes prior to time of departure
Within 120 minutes to 180 minutes after arrival
PRIO TEMP
120 minutes prior to time of departure
Within 120 minutes to 180 minutes after arrival
Dangerous
Goods
【STD: ~12:00PM】
23:00PM of 1 day before

【STD: 12:00PM~20:00PM】
240 minutes prior to time of departure

【STD: 20:00PM~】
16:00PM of same day




―
| | |
| --- | --- |
| Charges Collect | Acceptable |
Warehouse Facilities
Cold Storage
Name of Facility
Extent of Facility
Door Size
Temperature:°C
Refrigerator
[ EXP ] 55m²
[ EXP ] 3.9×3.5m
[ EXP ] +5°C
Freezing refrigerator
[ EXP ] 20m²
[ EXP ] 2.2×2.2m
[ EXP ] -15 to +5°C
Freezer
[ EXP ] 10m²
[ EXP ] 10m²
[ EXP ] 2.4×2.4m
[ EXP ] 2.4×2.4m
[ EXP ] -5°C
[ EXP ] -15°C
Facilities for Special Cargo
| Type of Cargo | Extent of Facility | Door Size |
| --- | --- | --- |
| VAL(Valuable Goods) | [ EXP ] 4m² | [ EXP ] 2.1 × 0.9m |
| D/G (Dangerous Goods) | [ EXP ] 20m² | ― |