Japan
Osaka
Office Information
Address
1 Banchi Senshu-kuko Sennan-shi Osaka
Office Hours
[ To Customer ] 7:00-22:00 (JST)
Telephone Number
[ EXP ] 81-72-434-8660
[ IMP ] 81-72-434-8680
FAX
[ EXP ] 81-72-456-7675
[ IMP ] 81-72-456-7685
Warehouse Information
| | |
| --- | --- |
| Address | 1 Banchi Senshu-kuko Sennan-shi Osaka |
| Office Hours | [ To Customer ] 7:00-22:00 (JST) |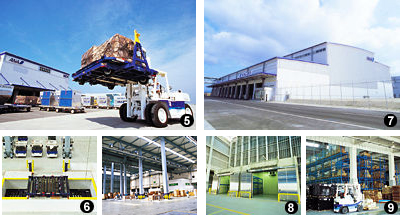 (5) ANA Export Cargo Warehouse
(6) Work Station
(7) ANA Import Cargo Warehouse
(8) Refrigerated storage area
(9) Mid-level Rack

Export Cargo Warehouse((5) / (6))

Export Cargo Warehouse: This facility has undergone two extensions and now covers 15,668m2. The CHESS system is also employed here as at Narita for efficient cargo handling.


Common Import Cargo Warehouse ((7) / (8) / (9))

ANA Cargo uses KACTAS: cargo warehouse, which covers about 11,000m2. The 20-meter-high automated storage system enables speedy cargo retrieval.
About Sending your Cargo
Handling Information
Type of Cargo
Acceptance Closed Time
Delivery Time
General
[ Passenger aircraft ]
120 minutes prior to time of departure
[ Freighter ]
180 minutes prior to time of departure
[ Passenger aircraft ]
Within 120 minutes after arrival
[ Freighter ]
Within 180 minutes after arrival
PRIO EXPRESS
60 minutes prior to time of departure
Within 90 minutes after arrival
PRIO FREIGHT
120 minutes prior to time of departure
Within 120 minutes to 180 minutes after arrival
PRIO COOL
120 minutes prior to time of departure
Within 120 minutes to 180 minutes after arrival
| | |
| --- | --- |
| Charges Collect | Acceptable |
Warehouse Facilities
Cold Storage
Name of Facility
Extent of Facility
Door Size
Temperature:°C
Refrigerator
[ EXP ] 28m²
[ IMP ] 150m²
[ EXP ] 3 × 3m
[ IMP ] 3.2 × 3.4m
(only for LD3 and Loose Cargo)
5°C
(for both exports and imports)
Freezer
[ IMP ] 48m²
[ IMP ] 2.1 × 2.1m
(only for LD3 and Loose Cargo)
-20 to 5°C
Facilities for Special Cargo
Type of Cargo
Extent of Facility
Door Size
VAL
(Valuable Goods)
10m²
[ IMP ] 0.75 × 1.9m
(We use lockable lockers for exporting valuable cargo)
AVI (Animals)
[ IMP ] 10m² (the facility is only available for imports)
[ IMP ] 0.9 × 2.1m
D/G (Dangerous Goods)
20m²
―