Large Freighter = B777F Operation to Frankfurt
2020.06.15
ー ANA operated 1st freighter to Europe on June 10 ー
Due to International passenger flights' continued reduction, affected by Novel Coronavirus, certain areas are in difficult situation to secure cargo space.
In order to meet the freight demands of both Japan and Europe, ANA has this time operated charter flight to the European gateway, Frankfurt.
ANA, for the first time, operated large Boeing 777 freighter aircraft to Europe.
Frankfurt is the third city for this aircraft to be in service, following Shanghai and Chicago which are operating since July and October, 2019, respectively.
The first flight from Narita departed with approximately 65 tons of semiconductor manufacturing equipment, electronics・parts, clothing, medical supplies, while transporting full load of 100 tons from Frankfurt with electronic parts, wine, etc.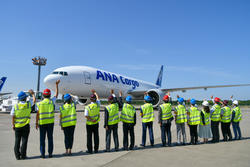 < Photo : Sending off >
Water salute was given to the first flight's arrival at Frankfurt.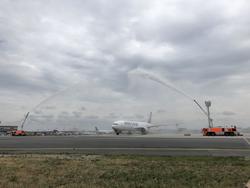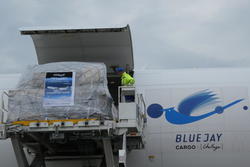 < Photo : Water salute >       < Photo : Poster >
Operation is also scheduled on June 17 & 24.
ANA will continuously utilize the group's International network and aircrafts, flexibly operating non-scheduled & charter flights, meeting the cargo demand and needs of valued customers.
< End of document >