Introduction of New PRIO PHARMA Product - "va-Q-tainer" for Pharamaceuticals
2019.12.09
Thank you for your usual cooperation with ANA group.
Please kindly be informed that "va-Q-tainer", provided by German company "va-Q-tec", will be newly introduced in the container lineup for ANA's pharmaceutical transportation product, PRIO PHARMA.
"va-Q-tainer", utilizing "Vacuum Insulated Panel" (VIP) and "Phase Change Material" (PCM), is a high quality container, hardly affected by the outside air temperature.
By adding non-power driven PASSIVE type container in the lineup to cope with the increasing needs, range of customers' choices will be extended. For further details, please refer to the following.
< NOTE >
[Contents of PRIO PHARMA - va-Q-tainer]
■Applicable containers
TWINx, XLx, USx, EUROx (4 types)
■Temperature ranges
-25 to -15C
+2 to +8C
+15 to +25C
■Container lease period
7 days
■Outline of containers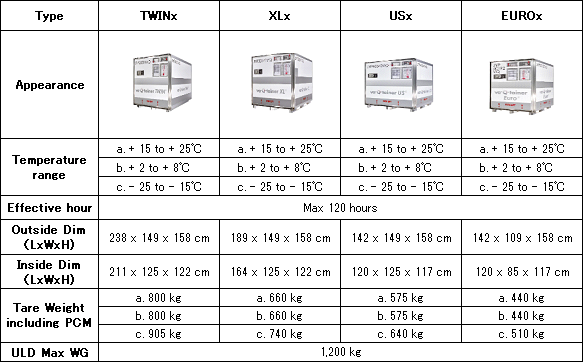 [Effective Date of Service]
January 6, 2020 (Mon) * ANA warehouse delivery base
[Applicable Routes & Flights]
ANA group operated flights and airline charters served between ANA online airports, but limited to direct flights departing from following online overseas' airports bound for NRT & HND. .
■TC1 ; ORD, IAD, JFK, SFO, LAX
■TC2 ; BRU, LHR, FRA, MUC, DUS, CDG, VIE
■TC3 ; SIN, BOM, ICN
※ Excluding block-space, codeshare, JV (joint venture) partner (LH, UA) flights.
※ Not applicable for RFS (Road Feeder Service) at airports in overseas and Japan, excluding HND-NRT segment.
[Reservations Procedures]
Please kindly make the reservation four days prior to lease starting date, filling in the booking contents (container type, requested temperature range and delivery date, delivery address, etc.) in the specified format. (For any inquiries, please contact sales or reservations in charge)
[Request to the Customer]
■Please return the va-Q-tainer at the arrival point by the customer
■When booking through eSPICA, please enter following SCC codes
・PRIO PHARMA ; "PHA"
・Pharmaceuticals ; "PIL"
・va-Q-Tainer ; "VQT"
■Due to va-Q-tainer being handled as PRIO PHARMA, a product of ANA for pharmaceuticals, please follow PRIO PHARMA's reservations procedures, describing "PRIO PHARMA" in the AWB, as well as attaching PRIO PHARMA label.
If you have any inquiries, please contact our sales or reservations in charge.
< End of document >