International Passenger Flights ~ Operational Change due to Coronavirus & Non-schedule Freighter Flights in March (As of Feb. 25)
2021.02.25
Thank you for your continuous support to the ANA group.
Please kindly be informed of ANA's international passenger and freighter flights' operational plan change for the month of March and onward, due to Novel Coronavirus infection spread, as follows.
We sincerely apologize for any inconvenience caused and highly appreciate your understanding and cooperation.
< NOTE >
【 Freighter Schedule Flights 】
【 Freighter Non-Schedule Flights 】


※1  Suspended on 3/10 ※2 Charter flight
【 Passenger Flights 】 (Mar. 1 ~ Mar. 27, 2021)
・Mar. 28~Apr. 18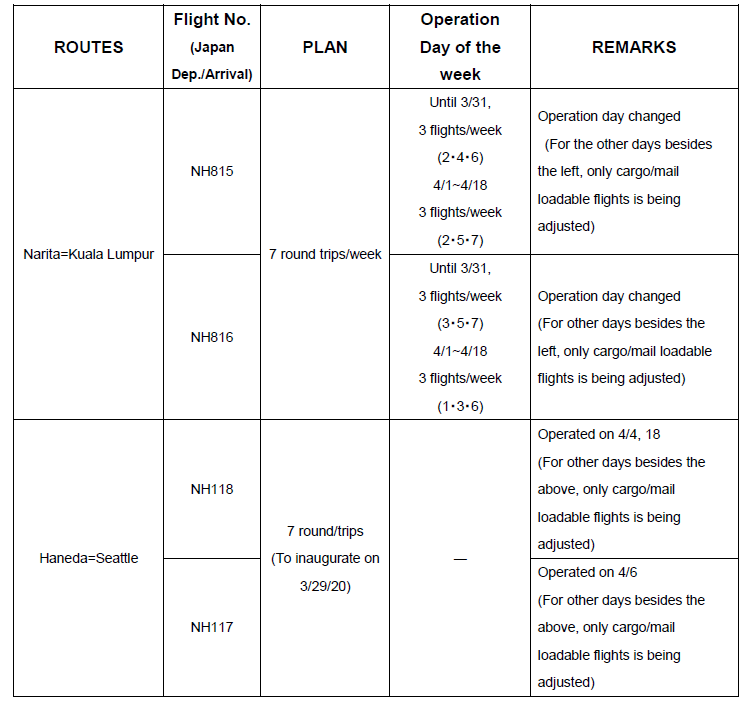 ・Apr. 19 ~ Jun. 30
Operational status list Updated information in this release is colored yellow with ★ mark in the "Remarks" column.
< Memo >
*1; Departure day of Japan bound (arrival) flights will be on the following day of above (Japan departure) dates.
*2; Non-schedule flights operated under "Air Travel Bubble" established by the Government of India for Japan.
*3; Japan outbound flight is approved as "Semi-commercial flight", by the Thai government.
*4; New inaugural date/period is undecided, which shall be informed as soon as fixed.
Above operation plan / schedule is subject to relevant government authorities' approval.
Indicated aircraft type may change without prior notice due to the condition of operation day.
Should you have any inquiry, please kindly contact the sales in charge.
Cargo News_W20-038 INTL PAX Flights - Ope. Plan Change due to COVID-19(02252021).pdf
< End of Document >