Freighter Operation Plan Change and Non-scheduled Flight Operation
2020.02.27
Dear Valued Customers,
Freighter Operation Plan Change and Non-scheduled Flight Operation
Thank you for your continuous support to ANA group.
Please kindly be informed that regarding the freighter routes or flights, suspended or decreased as per announced in the ANA NEWS (No.19-016 & No. 19-019, dated Feb.6 and 13, respectively), ANA is to additionally operate or resume some of those flights. In addition, considering the recent demand trend, non-scheduled flights are to be operated for certain routes.
For further details, please kindly refer to the following and attachments (①&②).
We highly appreciate for your understanding and cooperation.
< NOTE >
【Change of Freighter Operation Plan】 (Refer to attach ①)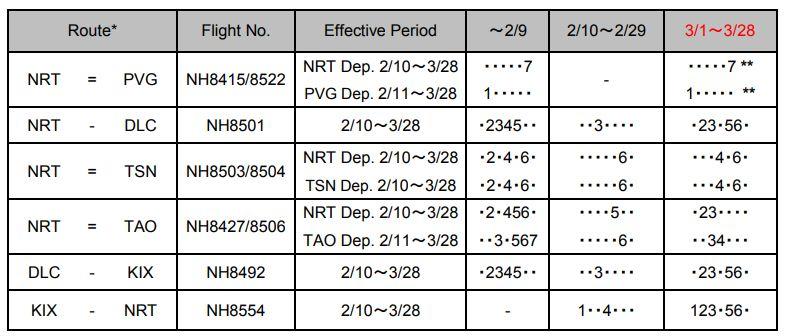 【Non-scheduled Flights】 Please kindly refer to attach ② for details.
Memo: * "Route" column showing "-" and "=" indicates "one way" and "round trip", respectively.
** NH8415/8522: Operated with B7F aircraft during 3/1~28.
*** Subject to government approval and the schedule may change without prior notice.
W19-025 Notice for Freighter Ope. Change & Non-schedule Flt.2.27.2020.pdf
W19-025 別添Attachment① 3月運航便リスト.pdf
W19-025 別添Attachment② 3月貨物臨時便.pdf
< End of Document >