ANA Launches New Temperature-Controlled Cargo Service The New 'PRIO IB Fixed Temp.' Product Uses IceBatteryR, A Temperature Control System Developed by Innovation thru Energy Co., Ltd.
2016.09.21
TOKYO September 21, 2016 - ANA and Innovation thru Energy Co., Ltd., are launching services with the new PRIO IB Fixed Temp., a product that uses the IceBatteryR * developed by Innovation thru Energy Co., Ltd., as a new product in the Prio series supplied by ANA for added- value cargo transport on international services. The product will be available at various temperature range settings (2℃ to 8℃, -20℃ to -15℃, -25℃ to-20℃) in accordance with customer's needs and objectives, providing a long-lasting fixed temperature service in three container sizes - LD3-size cargo containers and two different sizes of chilled box.
Start of Service
Available from flights departing Japan on September 28, 2016 (Wednesday)
Product Summary
This product allows cargo to be kept within a constant temperature range at all stages of the journey from storage at the airport of departure to storage at the airport of arrival, making it suitable for various cargo requiring strict temperature control under refrigerated or frozen conditions including vaccines and other pharmaceutical products and chemical products such as photoresist.
●If the temperature range is set between 2℃ and 8℃, the range can be maintained for more than 100 hours.
●The temperature range can be set up between 2℃ and 8℃, between -20℃ and -15℃ and between -25℃ and -20℃.
●Effective transport of various cargo volumes is possible through the use of three different available sizes (LD3 containers, two different sizes of box).
PRIO IB Fixed Temp.: Scope of usage

Available routes
ANA Group Flights (ANA Group-operating flights to/from airports with scheduled service)
*PRIO IB Fixed Temp. cargo services will also be available at airports that do not permit the use of dry ice.
According to IATA estimates, the worldwide market for the chilled transport of pharmaceuticals is expected to grow by 65% between 2014 and 2020, reaching an overall size of \37 trillion. In addition, the government is also bringing forward from the original target date of 2020 its goal of achieving \1 trillion in the export of agricultural, forestry, marine and food products while also trying to revitalize regions by promoting exports of regional produce and pursuing other policies that will stimulate vibrant regional economies.
However, there are various issues with the traditional method of attempting to use dry ice to transport chilled cargo at a designated temperature for long periods on international flights. The IceBatteryR developed by Innovation thru Energy Co., Ltd. allows designated temperatures to be maintained for long periods, for as long as more than 100 hours if the designated temperature range is between 2℃ and 8℃. The IceBatteryR is an eco-friendly product. In contrast to dry ice, there are no dangerous handling issues or environmental issues associated with the emission of carbon dioxide.
Using this technology makes it possible to transport international air cargo at stable designated temperatures, with low-lasting fixed-temperature transport also possible for products such as fresh food produce, pharmaceuticals and semiconductor materials where customers frequently abandoned attempts to transport their goods by air due to the difficulty of temperature regulation.
With PRIO IB Fixed Temp., ANA's new product, ANA can respond flexibly to the future market environment, meeting customers' diverse cargo needs.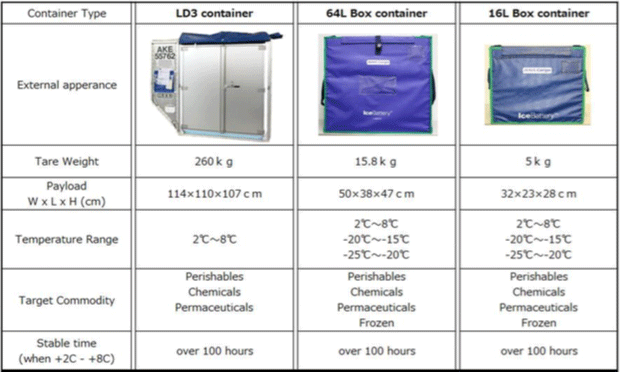 ※Currently, only the above temperature ranges are available, but expansion of the service is planned.
About IceBatteryR
IceBatteryR is a registered trademark of Innovation thru Energy Co., Ltd. This technology, developed by Innovation thru Energy Co., Ltd. for logistics purposes, has the following characteristics:
●Fixed temperature: The temperature within the container can be kept within the designated range even if the external temperature exceeds 30℃
●Extended temperature maintenance: Designated temperature ranges can be maintained in some cases for in excess of 120 hours
●Energy conservation: No electricity supply is required during transport
●CO2 reduction: Significant reductions in CO2 emissions are possible as no dry ice is used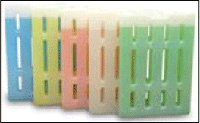 (Photo supplied by Innovation thru Energy Co., Ltd)
About ANA
ANA is the largest airline in Japan by revenues and passenger numbers. Founded in 1952, ANA flies today on 83 international routes and 116 domestic routes. The ANA group has 35,000 employees and a fleet of about 250 aircraft. In FY2015, it carried 50.8 million passengers and generated revenues of 1.79 trillion Japanese yen. ANA has been a member of Star Alliance since 1999, and has joint-ventures with United Airlines on trans-Pacific and Asia routes, and with Lufthansa, Swiss International Airlines and Austrian Airlines on Japan-Europe routes. Its Frequent Flyer Program, ANA Mileage Club, has more than 26 million members. ANA was voted Airline of the Year for 2013 by Air Transport World Magazine, and in 2016 was awarded five stars for the fourth consecutive year by the world's leading Airline and Airport review site, SKYTRAX. ANA is the launch customer and biggest operator of the Boeing 787 Dreamliner.
Contact:
All Nippon Airways Co., Ltd.
Shiodome City Center, 1-5-2, Higashi-Shimbashi, Minato-ku, Tokyo, 105-7140 Japan
Website: http://www.ana.co.jp, publicrelations@ana.co.jp
Tel: +81-3-6735-1111 (ANA Corporate Communications)
About Innovation thru Energy Co., Ltd. (ITE)
Innovation Thru Energy (ITE) is a Japanese company located at Marunouchi in Tokyo, Japan. Mr Pankaj Garg, CEO of ITE has gone through a lot of research inventions, filed several significant patents and developed the world's best Cold Chain Logistics Technology: a great substitute for Dry Ice and legacy refrigerated trucks. The mission of ITE is to provide Cold Chain Logistics Solutions at low costs eliminating CO2 emission and it is environmental-friendly. ITE has developed the multi-temperature controlled system: IceBatteryR for the best preservation of perishables and cost-saving solutions to logistic industry. ITE also offers constant temperature for long hours and brings a new platform of performance. It has more than 100 customers in Japan such as JR Freight, JR Kyushu, JRE water business, Alfresa, Toraji, Skylark and others. IceBatteryR key factors are easy to adapt in emerging market, scalable products line-up with made in Japan quality.
Contact:
Innovation thru Energy Co., Ltd.
Shin-Marunouchi Building 10F, 1-5-1,Marunouchi, Tokyo, 100-6510 Japan
www.icebattery.jp, info@ithrue.com
Tel: +81-3-3287-7327 Fax: +81-3-3287-7328