Delivering Letters to Santa Claus
2020.12.23
~ ANA Group delivers 80,233 letters from children all over Japan to Savalen, Norway ~
ANA Cargo Inc. and Overseas Courier Service Co.,Ltd. together with Toys"R"Us-Japan, Ltd. and The Greenland International Santa Claus Association have collaborated to deliver letters written by children all over Japan to the Santa Claus Association headquarters in Norway.
The departure ceremony was held on December 13th at the International Cargo Terminal in Haneda Airport, Japan. The 80,233 letters were collected in the "Santa Post" located in Toys"R"Us-Japan stores all over the nation. ANA Group's Blue Santas proudly accepted the precious cargo with dreams and wishes from the good children.
The letters were flown to Frankfurt, Germany by ANA and handed over to Overseas Courier Service to be trucked to its final destination at Savalen, Norway where Santa himself accepted them in his sleigh.
Below: At the Departure Ceremony
Below: Arriving in Frankfurt
Below: Overseas Courier Service loading the truck headed to Norway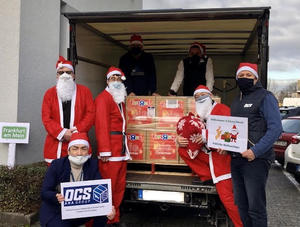 Below: Santa Claus himself accepting the precious cargo and reading the letters.
Happy Holidays from ANA Cargo!

End of Document