ANA's NEW Product-"PRIO FRESH" for transporting perishable cargo as international
2023.07.31
Thank you for continuous support to ANA group.
We are pleased to announce the release of "PRIO FRESH" for transporting perishable cargo, which is a new product in the "PRIO" series of high value-added services for ANA's international cargo. This service is complied with the required regulations for transporting perishable cargo and we provide the safe flight for customer's precious perishable cargo to the destinations. We start new optional services such as thermal blanket which is control temperature rise with direct sunlight, service of switching to Temperature controlled truck in domestic and provide traceability during air transportation (limited route). ANA Cargo provides reliable services for transporting perishable cargo.
Effective date
From August 1st 2023, Two additional optional service are available.
* Existing services can be used without modification
Product Summary
・Product name : PRIO FRESH
・Product code : "PFR" (Please enter when making a reservation)
Product Logo           Product Label

Applicable Cargo:
Perishable(International cargo)
* Update all existing Perishable to this product.
* The definition of Perishable is in accordance with the Perishable Cargo Regulations.
Applicable Route:
Departure :HND,NRT,KIX,FUK,NGO,CTS
Arrival : Overseas online airport(regardless of passenger/cargo flight)
Acceptance time:
Acceptance times vary by airport. Please contact our sales staff or refer to "Airports and Sales Offices" on the ANA Cargo website. https://www.anacargo.jp/en/int/location/
ANA Cargo News
Product contents:
The basic Perishable trans porting services that we have provided up to present are continued to available.The new optional services are as follow.
【Optional service details】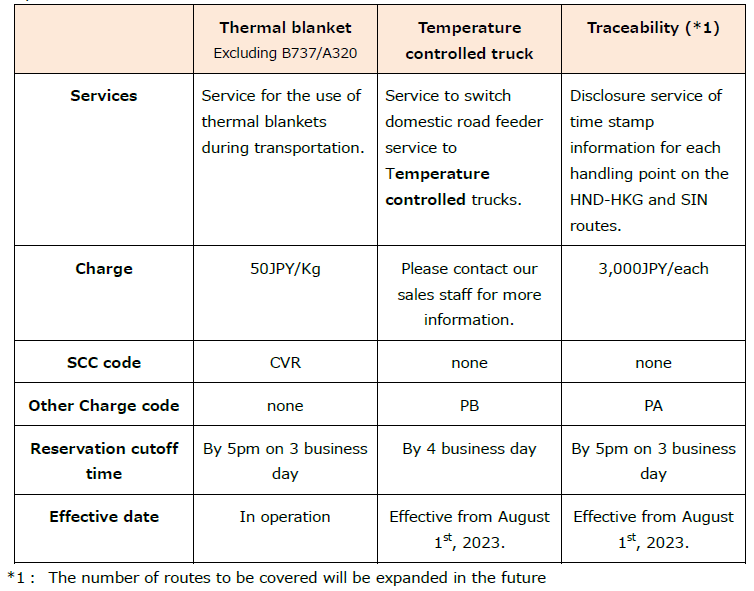 Reservation
・When booked by eSPICA, please input "PFR" as Product code.
・How to use optional services
Thermal blanket:
Please input "CVR(thermal blanket)" as SCC code for in the SCC code field of eSPICA
Please note that an error will occur if you input "CVR" in the SCC code field instead of "PFR". In addition, if the SCC code are not entered, the optional services are not provided.
Temperature controlled truck and Traceability:
Booking your cargo at eSPICA and please contact our sales staff.
・Handling Remarks:Please fill in a 24 hour contact phone number and Please fill in "PRIO FRESH".
Description and attachment for AWB
・Accounting Information:Please fill in "PRIO FRESH".
・Handling Information:Please fill in preferred storage temperature range (not room temperature) like 「PERISHABLE」、COL・FRO.
・In case of requesting optional services, please indicate the corresponding Other Charge code in the AWB.
If you have any questions, please contact our sales or reservation representatives. Your kind cooperation and understanding are highly appreciated.
【Cargo News】ANA's NEW Product-"PRIO FRESH" for transporting perishable cargo as international.pdf