We aim to bring new value and innovation to the world of global logistics. At ANA Cargo, we utilize our extensive network of freighters together with domestic and international passenger aircraft to offer a truly global, far-reaching service. Unlike traditional passenger aircraft, cargo freighters can be deployed with flexibility to build an agile network meeting your logistics needs, capture the latest trends in global markets and move strategically on them immediately. In addition, our Okinawa Logistics Hub Network links cities in Asia with each other, as well as link Asian cities with regional sites throughout Japan. Use this extensive, point-to-point service to provide your customers with never-before-seen value and convenience. We single-handedly take ANA's cargo business model to the pinnacle of the world of logistics.
Based at Naha Airport, ANA's Okinawa Logistics Hub Network links Japan
with core cities throughout Asia.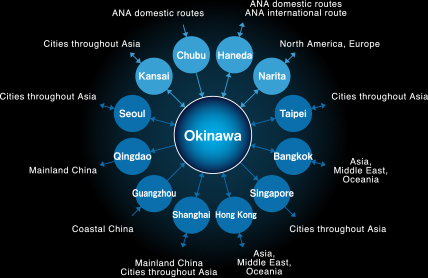 Note: As of April 2014, planned route openings are: Singapore (May)