International Routes - Partial Change of Operation Plan due to Coronavirus (Additional release as of March 13, 2020)
2020.03.13
Dear Valued Customers,
Thank you for your continuous support to ANA group.
Please kindly be informed of the following International services' operational plan change due to Novel Coronavirus spread.
We sincerely apologize for any convenience caused and highly appreciate for you understanding and cooperation.
< NOTE >
Passenger Routes / Flights :
【SUSPENSION / FREQUENCY DECREASE / NEW】(March 16 - 28)
A total of 267 flights serving23 routes to the following cities will be affected by the changes announced today, bringing the total number of affected flights to 2,224 serving 27 different routes.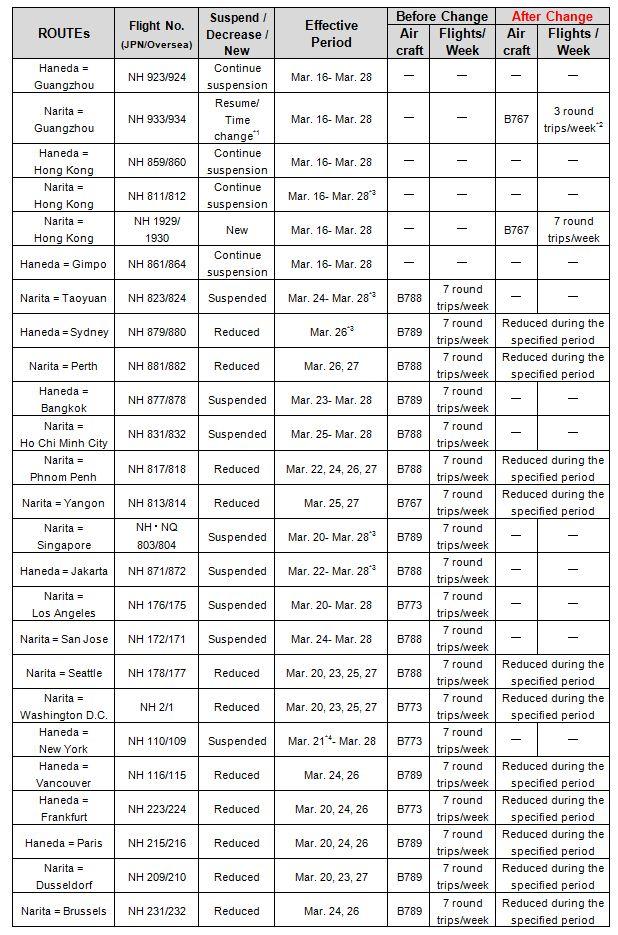 *1 Due to the suspension of the Haneda = Guangzhou route, ANA will resume the Narita = Guangzhou route. For further details please refer to the following chart.
*2 Flights will operate on Tue., Thur., and Sun.
*3 Return flights bound for Japan will be subject to this policy from the following date.
*4 NH109 will be suspended from March 20.
【Flight schedule for Narita = Guangzhou NH 933/934 and Narita = Hong Kong NH1929/1930】

*1 Flights will operate on Tue., Thur., and Sun.
Subject to government approval and the schedule may change without prior notice
Should you have any inquiries, please kindly contact our Sales in charge.
Cargo News_W19-034 International Routes - Partial Change of Operation Plan due to Coronavirus _0313.pdf

< End of Document >